Welcome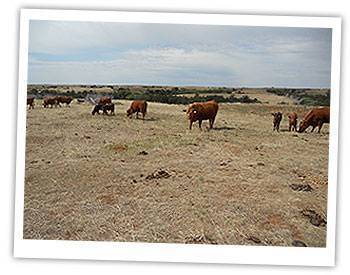 Pollock Cattle is located at Taloga in the northwest part of Oklahoma in Dewey County. We started with a small group of Gelbvieh cows around 2001. The extreme gentle nature and good maternal traits as well as the excellent growth was what had us sold on the breed. With the aging population of cattlemen in our area, we saw the need for cattle that were gentle. In 2007, we began to market Gelbvieh and Balancer bulls private treaty as well as females.
The majority of the herd are spring calvers. Bull and heifer calves are weaned in the fall and grazed on wheat pasture throughout the winter.
Cows graze large pastures that have a lot of red dirt canyons and hills so cattle must be sound to navigate through this type of rough country. We strive to raise cattle that are gentle, low birth weight, growthy, and sound to supply producers with bulls and females that will survive, reproduce, and thrive in this type of environment.
Much thought and research is brought to each mating as we strive to improve each year's calf crop. Single trait selection is never used. Not willing to sacrifice the good of the herd for the latest fad, herd sires are picked carefully in respect to disposition, birth weight, growth, feed efficiency, soundness, carcass traits, eye appeal, and most of all, fertility.
As a veterinarian, I have seen first hand the problems that are encountered with many of my clients in regards to problems in these areas.
Artificial insemination is used heavily with use of the industries proven sires. Data is kept on all calves with a rigid criteria for allowing them to be kept for sale as bulls, or to be put back into the cow herd.
We hope this website is useful and helpful in finding your next herd bull. Each year's bull crop will be displayed with information for each on the for sale page for your consideration.
Thanks,
Jeff Pollock DVM